Taking a break from our Latin American tour of beans and rice, tamales, and menudo, we are visiting the other side of the world. Part of being a perfect housewife is familiarizing yourself with a variety of World cuisines.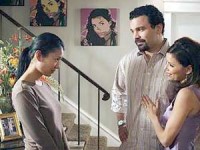 One thing I notice about popular TV shows is that the parent network tries to mold the cast into a more politically correct group of actors. They compel the writers to add minorities in the script so that they can appease affirmative action activists or simply just increase their Nielson Ratings Demographic. Take for instance the Applewhites. Mark Cherry wanted to portray this family as Caucasians but the producers did not agree. They wanted to add some "ethnicity." Practically, every major ethnic group has been portrayed on Desperate Housewives. You have the Hispanic Solis' and the African American Applewhites. But I ask you. Where are the Asians!? They can live in nice houses too!

Asians are not well represented on TV. They are usually cast in minor roles like a crazy, babbling, thick-accented maid (Gabrielle's previous two housekeepers). Ask anyone to mention an Asian actor in mainstream entertainment and he or she will probably say "Lucy Lui" … or be stumped. So, for the Asian's who are left out of television, this recipe is for you.
Polvoron is a common desert made in the Philippines. It is a powdery confectionery that is like a cross between candies and cookies. If you have trouble finding a polvoron molds, you can buy them at this blog network's eStore. Currently, the only other place I would look is in a Filipino food market or the actual Philippines! Good luck!
Polvoron Recipe
1/4 Cup of Crushed Raw Peanuts
1 Cup of Flour
1/3 Cup of Sugar
1/2 Cup of Powdered Milk
1/3 Cup of Melted Unsalted Butter
Gift Tissue Paper
Sauté the peanuts with a little butter in a shallow skillet until brown
Add flour and toast until light brown
Add sugar and powdered milk
Mix butter thoroughly in skillet
Compact mixture in polvoron molder/press
Set molded candies on a cookie tray and refrigerate for a couple of hours so that the butter can harden them
Cut tissue paper in 5" x 5" squares
Wrap when the polvoron is hard enough so that it does not break
Subscribe to Be a Bree by Email