"Bree [Van De Kamp] was known for her cooking, and for making her own clothes, and for doing her own gardening, and for re-upholstering her own furniture. Yes, Bree's many talents were known throughout the neighborhood. And everyone on Wisteria Lane thought of Bree as the perfect wife and mother. Everyone, that is, except her own family."
–Desperate Housewives – Episode 01.01 – Pilot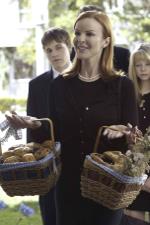 Bree, a main chracter on the ABC network hit series Desperate Housewives, has often been dubbed the Martha Stewart on steroids! She seems to be the perfect housewife. She is resourceful, hardworking, and loving … yet under-appreciated. Often homemakers in the real world (mothers and fathers alike) long to become even remotely as skilled as Bree. They are "desperate homemakers." This web site is a hybrid between a blog and a fansite dedicated to the perfect housewife played by Marcia Cross. The mission is to give helpful advice to clueless homemakers as they strive to "Be a Bree" (or a Martha Stewart).
Writers
The writers for this blog include myself (Jana "Jenna"), Allan, and soon-to-be contributing readers. When Allan and I met, we discovered that we both liked the Desperate Housewives series and our favorite character was Bree Van de Kamp. I've been reading Allan's blogs and I thought it would be a fabulous idea to collaborate and start a blog dedicated to our favorite housewives character. I will be writing most of the articles with what I learned as a wife, homemaker, and mother. Allan will be porting all of his "Home and Cooking" articles from The Information Bank and he will also post a few articles on cooking.
Jenna
Jenna is a proud mother of three children: Alexandria (9), Russel (15), and Adam (17). Like Bree, her marriage was on the rocks when she and her husband were at the verge of divorce. Thankfully, they now enjoy a healthy marriage (although, she admits, there are still a few kinks every now and then). Jenna always says that communication and listening are really the keys to a good marriage. In her spare time, when she is not tending to her family and the house, she enjoys scrapbooking.
Allan
Allan, a self-proclaimed vegetarian hacker, loves to cook. He was forced to learn the skill since he grew up as a picky eater and didn't like Asian food (which was most often served in his home). When Allan is free, he is usually on the computer working on his website network.
Subscribe to Be a Bree by Email