Bree: I got you the honey mustard dressing. The ranch looked just a little bit suspect.
Rex: Bree, are we gonna talk about what I said?
Bree: If you think that I'm gonna discuss the dissolution of my marriage in a place where the restrooms are labeled Chicks and Dudes, you're out of your mind!
Rex: What's in this?
Bree: What do mean, "What's in this?" It's salad.
Rex: With onions? You put onions in my salad!
Bree: No I didn't! Oh wait…
Rex collapses on the floor.

-Desperate Housewives - Episode 01.01 - Pilot
A salad is a vegetarian's or a vegan's best friend. I love them! They are so fresh and crisp! When prepared correctly, without pale nutrition-less vegetables (like Iceberg Lettuce), but with deep rich color, they add elegance to the meal.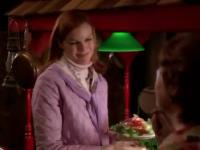 Ironically, while the actual salad is great for us vegetarians and vegans, we have to be wary of the toppings. Sometimes they are "a little bit suspect" in a vegetarian or vegan sort of way. Often, food establishments serve their salads laden with bacon shavings, chicken strips, milk-based dressings, or even dressings with anchovies. Like Pasta alla Puttanesca, which I covered in my last post, some dressings unexpectedly have anchovies.
Read the rest of this entry »