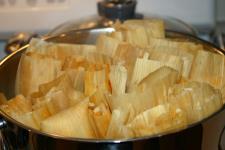 Part of being a perfect housewife is knowing how to cook at least one decent dish from every major international culture. This dish is derived from the Latin American. Bree could probably learn a thing or two from the real life Gabriel Solis, Eva Longoria. I read in an interview that she makes to-die-for tamales and enchiladas!
I've been adjusting and experimenting with this recipe for a couple of months now. It just took so much time and energy to cook it each time! Each batch got a little better until it was just right. After tonight's batch of delicious filled corn husks, I am finally ready to post it!
Vegetarian Mexican Tamales Recipe
1 Bag of Corn Husks
5 Ancho (Dried Poblano) Chilies
1 Hunk of Unsweetened Dark Chocolate
Saucy Filling

Torn/Ground Meat or Meat Substitute
1 Chopped Onion (Medium Fine)
3 Cloves of Minced Garlic
1/3 Finely Cut Red Bell Peppers (I use a small jar of Pimientos)
1 Can of Corn
1 Can of Hominy
1 Bag of Julienned Carrots Chopped
1 Poblano Pepper Chopped
5 Stalks of Celery Chopped
1 Yellow Squash Chopped
3 Tomatoes Chopped
1 Chopped Bell Pepper
1 Can of Black Beans
5 Stalks of Asparagus Chopped
1 Cup of Cooked Rice or Cubed Cauliflower
2 Tablespoons Chili Seasoning
2 Tablespoons Menudo Seasoning
1 Tablespoon of Oregano
1 Can of Seasoned Mashed Refried Beans

1 Entire pod of Finely Minced Garlic (again)
1 Tablespoon of Cumin
1 Tablespoon Menudo Seasoning
1 Tablespoon of Oregano
1 Bunch of Finely Minced Cilantro
6 Cups of Masa Flour
5 Cups of Chicken / Beef Broth
1 Cup of Corn Oil
1 Cup of Melted Shortening (or any other "hard fat")
5 Tablespoons of Salt
1 Teaspoon of Baking Powder
Soak the corn husks in warm water so that they can soften.
Deseed and remove the stems from the dried chilies. Tear the "skins" in boiling water. Boil until the "skins" turn a little more thick and fleshy.
Blend the boiled chili pieces and the hunk of chocolate in about two cups of fresh water until smooth. Some people like to reuse the boiling water for this.
Make the Filling

Grill the meat in a skillet
Sauté the onions, garlic, and red bell peppers with the meat
Grill the corn with the skillet mixture
Add the seasonings and about 1/4 of the blended chili sauce.
Finally, incorporate the pinto beans with the filling.

Sauté the garlic with cumin, oregano, and menudo seasoning.
Mix the masa flour, broth, corn oil, shortening, salt, baking powder, sautéed garlic, and the rest of the chili sauce. I've seen "authentic" Mexican preparations of masa with a very soupy consistency. Personally, I like mine more solid so that it cooks faster. You can add more or less oil/water to your liking.
Spread less than 1/4 cup worth onto each corn husk (should cover 2/3 of the husk area) and add about 1-2 tablespoon(s) of filling on top. Fold the corn husk lengthwise so that the ends overlap towards the center. Then fold the empty part of the husk so that it overlaps on top of the closing.
Place the tamales in a steamer pot. I just use a normal tall stock pot with a steamer accessory on the bottom.
Add water to the steamer and tightly close the lid. I place a thin cloth between the lid and the pot so that the top is more tightly sealed.
Steam for at least 1 hour. I like to steam the tamales for 2 hours.
The tamales are cooked when the masa mixture separates easily from the corn husk.
I hope this recipe works out! It takes a couple of times to get comfortable. Feel free to adjust this recipe to your liking.
Enjoy!
Subscribe to Be a Bree by Email