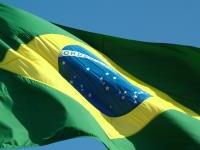 Here in the United States, we're accustomed to the typical cuisines like Italian, Mexican, Chinese, and of course … American. There are times when I wonder what else is out there on this green earth. Every time I meet people of a different nationality, I like to inquire about their cuisine. "What is the food like in [fill in the blank]?" or "What do you normally eat at home?" Sometimes, I they tell me a tragic response like ramen noodles. Other times, I learn a treasure that I can add to my cooking repertoire.
One such instance was when I met a Brazilian ESL student in high school. This "chica," named Rochelle, always liked to talk about her life in Brazil. I asked her about the cooking and I learned that apparently their food is very simple. It is simple to make and it tastes simple … without a rush of spices and flavors common to many worldwide dishes. At the time, my favorite food was Mexican, a very rich-tasting cuisine. To me, simple sounded more like boring and bland. How could I like Brazilian food?

I later learned that less
is
really more. During the course of the year I knew Rochelle, she often cooked us her Brazilian Black Beans and Rice. Later, she taught me how to make it. Surprisingly, my friends now prefer this dish most out of
all
the recipes that I cook. One of them even called me from the grocery store the other day and asked me how to make my "black bean madness." Thank you Rochelle for sharing this recipe!
Rochelle's Black Beans and Rice
Rice Ingredients
Olive Oil or Butter
1 & 1/4 Entire Pod of Garlic Minced – That's right, I said "pod" not "clove!" You'll be crushing a lot of garlic here!
1 Small Can of Mushrooms
3 Cups of White Rice
3 & 1/2 Cups of Water
Salt
Black Beans Ingredients
1/2 Chopped Onion
1/2 Chopped Poblano Pepper
1/2 Can of Diced Tomatoes
1/2 Can of Corn
1 Can of Black Beans
Rice Instructions
Saute an entire pod of minced garlic in a pot on high heat till brown.
Pour the entire can of mushrooms in the pot.
Add the rice and water in the pot as well.
Add two tablespoons of olive oil and one tablespoon of salt. When it starts to boil, switch to low heat and cover. Cook for 30 minutes.
Black Beans Instructions
Saute the rest of the minced garlic on high heat in small skillet till brown.
Saute the onion till brown.
Saute the poblano pepper till brown.
Drain and sauté the tomatoes till dry.
Drain and sauté the corn till brown
Continue to sauté until everything starts to caramelize, stick to the skillet, and/or grill (burn). Glaze the skillet with the black beans. Immediately remove the skillet from the heat.
Add two tablespoons of olive oil and one teaspoon of salt. Cover for 5 minutes.
The rice may take a while but the beans should be ready to eat immediately or at most five minutes after the glaze. Please comment on your suggestions or how this turned out for you!
Subscribe to Be a Bree by Email