Bree: "You don't have to wash those. I already did them."
Orson: "Oh, I found some streaks. So, I'm wiping them down with undiluted red wine vinegar."
Bree: "I've never heard of that."
Orson: "Oh, sure. And for tougher spots I use a fifty-fifty mix of denatured alcohol and water. And for those really intractable stains, I mean, we're talking shower doors, I wipe on laquer thinner with a towel."
Bree is breathing heavily and staring at Orson.
Orson: "Bree?"
Bree grabs Orson and kisses him passionately. She drags him into the bedroom. The kitchen faucet is still on.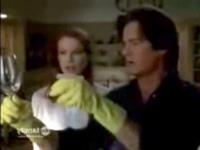 As much as I love the beauty and simplicity glass, I hate how hard it is to clean it. Its like you have to go an extra mile to ensure that there are no streaks! Since we don't own wineglasses at home, I can't really try what Orson recommends. I certainly will if we ever do buy a set! I'm not sure if his suggestions can be applied to glass windows, mirrors, and tabletops. But, I already know a method of cleaning glass without streaks. It certainly won't make your significant other horny but it will definitely get rid of your streaks! The secret is in two components, newspaper and vinegar.

Read the rest of this entry »