"I remember the easy confidence of her smile the gentle elegance of her hand the refined warmth of her voice."
–Desperate Housewives – Episode 01.03 – Pretty Little Picture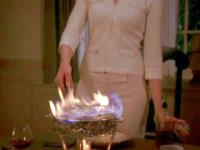 If you remember at the beginning of Mary Alice's traditional narration, there is a scene where Bree displays her "gentle elegance" by pouring alcohol on the dinner entree and lighting it.
I've seen this performed once in real life in a Greek restaurant. I ordered a side of flaming goat cheese because it just sounded interesting. The waiter poured brandy on the cheese block and lit it. The subsequent flame quickly consumed the liquor and all that was left was sizzling, browned cheese.
I thought that it would be fun to add a "flambé" entree to my cooking repertoire. A flaming entree brings elegance and grandeur to the dish and exhibits the expertise of the cook.
Cooking flambé requires a lot of practice. I'm sure Marcia Cross had to practice that short scene countless times in order to perfect it. I sure know that I'm not completely capable yet! The other essential ingredient to flaming cooking is liqueur, not wine or beer but high proof (alcohol concentration) drinks like cognac, whisky, or brandy.
Since, I don't consider myself acceptably proficient in the flambé art, I'll just provide my resources where I learned it.
Fajitas Flambé
So, what flambé dish did I add to my cooking repertoire? Flaming Fajitas! Since I'm vegetarian, I use the Morning Star Farms Chicken Strips.
Marinade

4 Cloves of Crushed or Minced Garlic
4 Limes
1/3 Cup of Oil (Corn Preferably)
1/3 Cup of Hard Liquor (I use Tequila or Brandy. Beer can be used as a last resort.)
1 Tablespoon of Cumin (The more the better.)
1 Tablespoon of Fajita Seasoning (The more the better.)
1 Tablespoon of Oregano
1/2 Teaspoon of Cayenne Pepper
1 Tablespoon of Black Pepper

Beef, Chicken, or Meat Substitute
1 Onion Sliced in Long Strips
1/2-1 Red, Yellow,

and

Green Bell Peppers Sliced in Long Strips
1 Tomato Sliced in Long Strips
(Again) Fajita Seasoning, Cumin, Black Pepper, and a Lime
A Flammable Liquor. Alcohol concentration must be greater than 40% (80 Proof). I use Brandy.
Homemade-style Tortillas
Marinade the meat for at least an hour. I recommend marinating overnight in the refrigerator.
Drain the marinade but save the garlic pieces.
Grill the meat. I like to use a Foreman Grill.
While grilling the meat, sauté the saved garlic, onions, peppers, and tomatoes in a large pan or skillet.
Add the grilled meat to the pan mixture and sauté with more Fajita seasoning, cumin, black pepper, and lime. Make sure the vegetables and/or meat brown, slightly charred.
Add about 1/3-1 Cup of the flammable liquor to the pan. As you see steams of alcohol,

Step/Pull back.
Turn on the lighting wand.
Carefully, light the pan. It helps to have a large lid in your other hand to smother the flames in case things get out of hand.
If it doesn't flame, let the steam rise a bit more.

Warm tortillas on a separate small pan and eat hot. Enjoy!
Subscribe to Be a Bree by Email