Warning: Spoiler Below!
I just read an article about an interview with Marc Cherry, the creator of Desperate Housewives. In it, he reveals that this second season, Bree Van de Kamp will be "starting her descent into alcoholism." Cherry pointed out that this was planned and has been carefully building up since the first episode.
Causes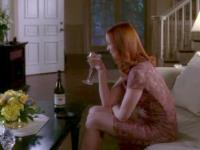 Now that I think of it, there have been numerous indicators of this. First, her husband cheated on her. Later, he suddenly died. She broke off her engagement with her boyfriend who killed himself and admitted to poisoning her late husband. To top things off, her kids are getting out of control! I wouldn't blame her for drinking!
Signs
We can see subtle signs of alcoholism in the first season. Bree always grabs her wineglass when something is wrong. One example is the Guilty episode. The Van de Kamps were trying to cover up Andrew's DUI and hit-and-run crime. So, they took his car to a bad part of town and hoped that the poor would steal it. We can find Bree with a wine glass at the beginning and the end of this episode to cope with the tension and guilt that she is feeling.
These subtle hints of alcoholism are becoming more blatant in season two. This can especially be seen in the last two episodes "One More Kiss" and "We're Gonna Be All Right." Andrew points out to Bree how she likes to down two glasses each night. Later, Bree is arrested for DUI!
Alternatives
Personally, I try to stay away from the substance. Although the classy sophistication of drinking from wineglasses is alluring, I don't take alcohol because it kills brain cells at the very first drink. Quite literally, I can't afford to loose my mind! I have a family to take care of and a blog to write for, both of which require brain cells.
So, just don't drink? Not necessarily. Don't drink alcohol. The following are a couple of alternative beverages that I drink in place of alcohol.
Italian Soda from KKTV

1.5 ounces flavored syrup
5 ounces soda water
1.5 ounce half and half
Ice
Fill a glass with ice then put in syrup. Fill glass with soda water 1 inch from the top then float half and half on top. I think the same syrup for coffee is used in Italian Soda. So, you can find it in the coffee section of your local grocer or at Amazon. Try to find Hazelnut or Vanilla.
Shirley Temple from DrinkStreet
4 ounces Ginger Ale
2/3 ounce Grenadine
2 ounces Orange Juice
Build in a highball glass. Add Ginger Ale and orange juice over ice and sprinkle grenadine over it. Garnish with a lemon slice and a cherry.
Sparkling Juice
This is a really no-brainer replacement. Basically, it is juice concentrate with carbonated water packaged in a wine-like bottle. You can find them at any grocer with the sodas or alcohol.
Tomatoe Juice
This is a great alternative to a Bloody Mary (or just try a Virgin Mary). Find it next to the bottled apple juice at the supermarket.
Pina Coloda
1 can of coconut milk
1-2 cans of pineapple slices
Brown Sugar
This is your basic Pina Colada recipe. The only difference is that there is no rum.
Grape Juice
One of my favorite, grape juice is a yummy inexpensive substitute for wine. To make things more interesting, add some lime juice. Lime or lemon juice is a great complement for any other fruit.
Feel free to use these drinks in place of or in addition to alcohol. You'll be a perfect hostess to family parties – especially, New Year's parties – if you cater to both young and old. For more recipes of both alcoholic and non-alcoholic drinks, visit DrinkStreet,
Please comment if you have any additional ideas!
Subscribe to Be a Bree by Email