Recently, on a Sabbath afternoon, my sister and I went to a friend's house to have lunch. When we arrived, our friend asked me if I knew how to cook fried rice and I said, "Yes." In the back of my mind I was thinking, "In fact, it was the only thing I knew how to cook when I was a kid. So, call me an expert!"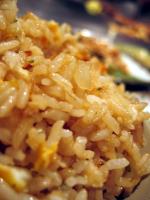 I gave her a couple of pointers on how to cook it. While she was talking to my sister, I wasn't paying attention to her cooking or to anything at all for that matter. I mean, I just woke up. It didn't even phase me when she cracked open the eggs and put them in the skillet.
Then, my sister asked her, "What are you doing?"
"I'm making fried rice."
"Allan, You didn't tell her about the eggs?!"
It was then that I finally realize what just occurred. While the rice was in the pan, she put in the eggs. I felt (and I still feel) quite bad about the whole incident. Because of my mistake for oversight, I will reveal how to cook fried rice correctly.
Read the rest of this entry »