Rex: "What are you thinking about?"
Bree: "Oh, I was just, um, thinking that I need to start, uh, spring cleaning."
Rex: "You haven't done that yet?"
Bree: "No, and I need to clean out our rain gutters, and, uh, beneath the refrigerator, and I can't tell you how long it's been since I've replaced the shelf liner, so…"
Rex: "Then you'll finish off with our wedding silver."

–Desperate Housewives – Episode 01.23 – One Wonderful Day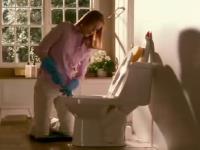 Last week was spring break for my kids. You know what that means? It's family spring cleaning time! Spring cleaning is a great event when you can make the family help you clean the house. Of course, I gave my sons and husband the brute work with the garage and the yards. My daughter helped me in the house like with dusting and polishing. But, there is one place in the house where my family balks to clean, the bathroom. They are such wimps! So, I always end up cleaning it. Cleaning the bathroom always conjures up old memories of my college days when I had to take up a janitor job to pay for my school bill. I hated every minute of it! But, it did teach me a couple of things that helped me later in life as a "domestic goddess."
The lesson that I will focus on today is cleaning walls of the bathroom. I saw a special on Oprah (or the Today Show) discussing the unexpected dirty areas of the house and the important places where most people fail to clean. Of places like the bed, toothbrush, and sponge, the biggest thing that struck me the most was the walls of the bathroom, particularly the ones right next to the toilet. Every time "nature calls," a new spray of toilet mixture consisting of water, urine, and/or feces makes its way to the wall when flushing. This especially applies if you live with males since the water splashes up whenever they pee. Believe me, I know! I live with three boys (including my husband)!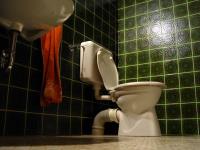 When I was college janitor, I had to clean the men's bathrooms too. For the ladies who do not regularly enter a men's bathroom, the walls at the side of the commodes (regular sit-down toilets) and the urinals are often corroded because of the acid the builds up from the pee.
I know it's a disgusting topic but it has to be covered. Most people miss cleaning the walls of the bathroom. And some think of it as a hassle especially when there are no males using the toilet. But just think of this, if it is not cleaned, there will be cakes of urine and feces microscopically forming on your wall. Personally, that makes me want to puke.
Get some bleach or disinfectant and clean that wall!
Subscribe to Be a Bree by Email