Last year my husband took me on a cruise to Alaska for our anniversary. It was so much fun and there was so much to do! I would recommend it to anyone who is looking for vacation ideas … provided that they have the cash to burn. Carnival Cruise Lines are truly "the fun ships."
Cruise Food Choices
Being a cruise passenger newbie, I was in awe of the amount of food! It was then that I learned that Cruises serve free food (sorry, no drinks) 24 hours a day! Every type of dining atmosphere and cuisine is at the passenger's disposal. You could opt for American, Asian, Mexican, Italian, and even Bree-like gourmet! You could dine in fast food, corner street stand, club, bar, pizzeria, even formal restaurant-style (complete with real maître d'hôtel) atmosphere! Sometimes, this formal venue was so elegant that a tux was required entry for the gentlemen. All this is free service and food 24 hours a day!
My Choice
You can bet that most of the time, I went to the sit-down, waited-on, elegant "Bordeaux Room" for my meals. Every meal offered gourmet, like Vegetable Moussaka, or exotic, like Greek Goat Cheese Soufflé. One of the exotic main courses on the menu was a simple Indian Dish consisting of curry, basmati rice, flat bread, and green pea sauce. It was divine! I've always loved curry made in America, but this curry made by a real Indian chef was amazing!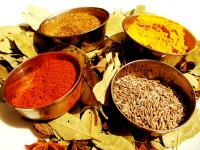 My mouth waters when I think about these meals … even as I type this article. So one day, I decided to find out how to cook it. I found a couple of curry recipes from Vegetarian Recipes Around the World. I combined two or three of them and added my own variations.
Basic Indian Curry
Oil or Butter Enough to Coat a Pan
2 Onions
2 Cloves of Garlic
1-2 Diced Carrots
1/2 – 1 Drained Can of Corn
2 Tablespoons of Curry Powder
1 Can of Coconut Milk
2 Medium Potatoes
1 Can of Chickpeas
1 Cup of Diced Squash (I use Butternut Squash)
Sauté onions and garlic in oil until brown or translucent
Sauté carrots and corn until brown
Add curry powder and continue to sauté
If your potatoes and squash usually end up undercooked when using them in other recipes, cook them halfway in the microwave with a bit of water for 1-2 minutes
Add coconut milk, potatoes, chick peas, and squash
Keep covered on low until potatoes and squash are soft or at desired consistency. Be careful not to overcook.
Eat with basmati rice and/or flat bread. If you don't know how to make those, Allan or I will be posting a couple of articles on them. Homemade tortillas are good substitutes to the flatbread. This recipe is totally customizable. Nothing is exact. I mean, most cooking isn't a rigid science! Enjoy!
Subscribe to Be a Bree by Email